Fish balloons have become a trendy and unique way to enhance any party or event décor. These balloons are guaranteed to be a conversation starter and add an element of fun and whimsy to your space. Whether you are hosting a child's birthday party, a baby shower, or even a tropical-themed wedding, fish balloons can take your decorations to the next level.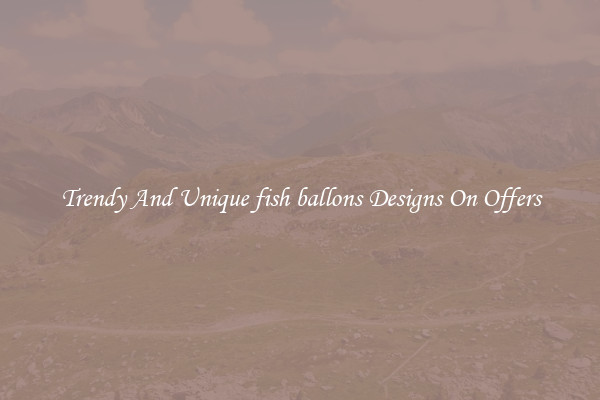 One of the most popular fish balloon designs on offer is the tropical fish balloon. These vibrantly colored balloons come in a variety of sizes and shapes, resembling exotic fish found in coral reefs. The bright colors and intricate details on these balloons make them truly eye-catching. They are perfect for summer parties or beach-themed events, adding a festive touch to any setting.
Another trendy design is the goldfish balloon. These balloons are typically round in shape, with a long tail trailing behind. The goldfish design is simplistic yet elegant, making it suitable for both casual and formal occasions. These balloons work well as standalone decorations or can be grouped together to create a captivating centerpiece.
For more artistic and unique designs, there are holographic fish balloons available. These balloons feature an iridescent sheen that shimmers and changes color as they catch the light. These mesmerizing balloons are sure to leave your guests in awe. They can be used as focal points at your event or mixed in with other balloon arrangements for added visual interest.
If you are looking for a more interactive experience, there are also fish balloon animals on offer. These balloons can be twisted and shaped into various fish forms by professional balloon artists. The balloon animals can be used as decorations or handed out as party favors, allowing guests to take home a piece of the festivities.
In addition to their visual appeal, fish balloons also offer practical advantages. They are mostly made of high-quality materials that are resistant to popping, ensuring they last throughout your event. Additionally, many fish balloons are helium-compatible, allowing them to float gracefully in the air, creating a captivating display.
Fish balloons are versatile decorations that can be utilized in a wide range of events. From children's parties to sophisticated soirées, these unique balloon designs are sure to leave a lasting impression on your guests. So, if you are looking to make your next celebration extra special, consider incorporating trendy and unique fish balloons into your décor.